Road Glide® Model Comparison
How much is the 2022 Harley-Davidson Road Glide®? Is the 2022 Road Glide® right for you? There's a lot to love about this motorcycle, and here's the breakdown to help you know if it is the best decision for your needs.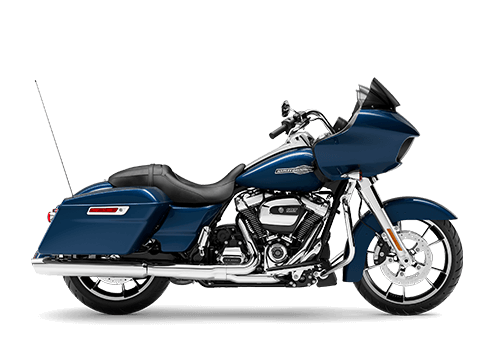 Road Glide®
The Road Glide® is the ideal bike for riders looking to discover the open road and those looking for a Dual Daymaker® LED headlamp bike that's going to shine some light on your time on the road. It features a Milwaukee-Eight® 107 V-Twin engine and shark nose fitting that performs at the best level.
Road Glide® Special
The 2022 Road Glide® Special for sale features a few upgrades, including the Milwaukee-Eight® 114 engine with lots of power and performance behind it. The paint coloring is a bit different as well. It also includes stretched saddlebags, which create a sleek look on the outside of the bike and add lots of room for everything you need to take with you. This makes the 2022 Harley Davidson Road Glide® the ideal vehicle for long trips when you want everything within reach. 
Road Glide® Limited
The 2022 Road Glide® Limited adds to the look of this bike. The 2022 Road Glide® Limited for sale features an Apex Factory Custom Paint that is exceptional. The paint features a paint and graphics option that is available on select bikes that is truly eye catching. It is inspired for racing, but it is still an exceptional option for touring. In addition to this, it offers a Milwaukee-Eight® 114 engine that provides 114 cubic inches of passing and power. Another upgrade in the 2022 Road Glide® Limited is the heated handgrips, of which there are six setting options on this model. That allows you to adjust to fit your needs. It also comes with a premium Tour-Pak® luggage carrier that offers lots of storage for anything that's going with you.
Road Glide® ST
The highest performing and most catching option in the lineup is the 2022 Harley-Davidson Road Glide® ST. It offers bigger performance and more space but also has a bigger powertrain to create an even more impressive experience on and off the road. For those who want classic touring designs with a premium H-D feature lineup, this could be the bike for you. The 2022 Harley-Davidson Road Glide® ST features a Milwaukee-Eight® 117 Twin engine. This offers better torque and displacement than others and has built in precision oil and air cooling. With 3750 RPM and 126 ft. lbs. of torque, drivers really get a lot of performance out of this model. It has a high flow exhaust system to maximize the way the engine performs. It's enough that you can easily feel the difference when you are behind the handlebars.
MILWAUKEE-EIGHT® 107 ENGINE
The Milwaukee-Eight® engine is the latest iteration of Harley-Davidson's Big Twin engines. It offers even more power and torque than its predecessors along with being highly reliable and fuel-efficient. 
It also has fantastic cooling to accommodate the increase in power while maintaining peak performance efficiency. The Milwaukee-Eight® still has the classic V-twin configuration with eight valves across two cylinders. 
The Milwaukee-Eight® 107 V-twin is standard on the Road Glide® model. Special and ST models feature the Milwaukee-Eight® 114 with higher torque and displacement.
REFLEX™ LINKED BREMBO® BRAKES WITH OPTIONAL ABS
The Reflex™ Linked Brembo® Brake system is a prime example of how Harley-Davidson® has incorporated the latest in engineering into its classic bike design. This smart braking system offers riders more control over their motorcycle when they're accelerating and braking. 
When the system senses urgent changes in the road or hazardous conditions it can adjust the traction to meet the performance of the bike and provide greater control. This system is available with ABS to prevent your wheels from locking up when you apply the brakes and also offers greater control when braking heavily or quickly.
BOOM!™ BOX GTS INFOTAINMENT SYSTEM
The Boom! Box GTS Infotainment System is a streamlined infotainment center that maintains the classic look and feel of your ride while offering the modern connectivity and operation you expect from an infotainment center.
The system is a 6.5" touch screen that's operable with touchscreen gloves and optimized for visibility even in high sun. The internal processing system is the fastest and most responsive yet, so you can make quick changes to your route on the fly. Controls are also operable by the bike's hand controls.
FRAME-MOUNTED SHARK NOSE FAIRING
Another key of the 2022 Harley-Davidson Road Glide® Special and other models is the frame-mounted shark nose fairing. It's quite menacing and creates its own presence on the roadway with that distinct shark-nose appeal to it. It's hungry for the road ahead of it, and while its looks are impressive, this feature on the 2022 Harley Road Glide® is also functional in that it works well to cut through the wind improving fuel efficiency and performance.
RESPONSIVE SUSPENSION
The 2022 Road Glide® ST and 2022 Road Glide® Special feature a responsive suspension system. This is a high-performance suspension system at both the front and the rear of your bike. It also features adjustable rear shocks. That allows you to remain in control over your bike.